DIPG Statistics
Brain tumors are now the most common cancer and cause of cancer-related death in children less than 15 years of age. They are the most common solid tumor in children – accounting for approximately 25% of all childhood cancers. Diffuse intrinsic pontine gliomas (DIPG) are the most common brainstem tumors in children, representing approximately 75-80% of all pediatric brainstem tumors.
DIPG Data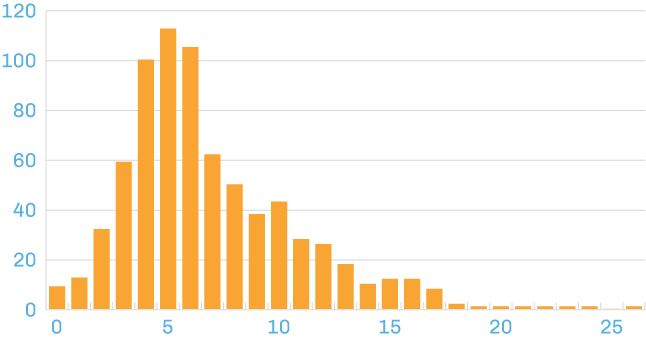 Thanks to patient information being collected by the DIPG Registry, we are now better able to view and chart patient attributes to look for correlative data. This data is already being used to influence new research1:
Approximately 150-300 patients are diagnosed with DIPG in the USA per year.
The median age of patients with DIPG is approximately 6-7 years old.
The male/female ratio of DIPG patients is 1:1.
Get the stats on DIPG survival rates
Other Statistics:
Brain tumors are the most common solid tumor in children and comprise approximately 25% of childhood cancers2
Brain tumors are now the most common cancer and cause of cancer-related death in children less than 15 years of age3
The overall incidence rate of all primary brain tumor is 5.8 per 100,000 population in the US for children and adolescents 0-19 years of age3
Diffuse intrinsic pontine gliomas (DIPG) are the most common brainstem tumors in children, representing approximately 75-80% of all pediatric brainstem tumors4